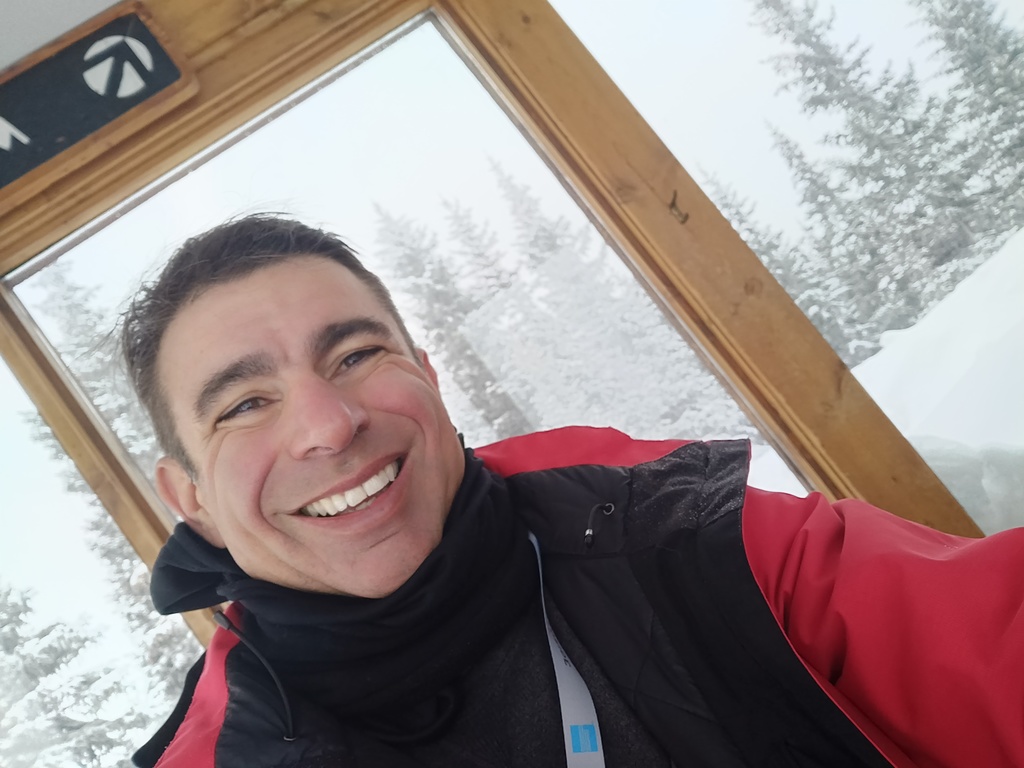 Yes! We finally had the most fantabulous snow season of the (this) century! 2018-2019 will forever go into snowboarding history as Colorado's most fun, especially with the future being warmer and the snow trending towards occasional more than regular.
In fact, I haven't been updating this blog for a long while because I was having way too much fun on the slopes. Now the season is winding down and it's time to recap almost six months of awesomeness!
I usually plan for a longer trip outside the state, just to get to know new resorts and to just get out of town. I haven't felt like that since moving to Denver, since our snow (even on a marginal season) is better than almost everywhere else. But Colorado is huge and there are plenty resorts far enough from Denver, you can't reach them on a day trip.
Last year, I tried Crested Butte and had a blast. This year I wanted to go even farther and picked Telluride. It was convenient, in that it had just been acquired by Vail Resorts, which also runs most of the mountains near Denver.
So, waking up at 4a and three days, but only two nights in Telluride. What's the verdict?
First, the drive. There are two main ways to get to town from Denver: one goes first West on Interstate 70 to Grand Junction, then South. The other is to follow US 285 and then US 50, past Crested Butte (and a few more resorts). I picked the Grand Junction route, which is slightly faster and shorter. It was a good call, since it was also incredibly beautiful.
I had already driven many times from Denver to Grand Junction, on my way to San Diego. Turning South there was at first only marginally interesting. To the left (East) was the towering enormity that is the Grand Mesa (famous to the inclined as one of the Natural World Wonders in Civ V). The right is dominated by the spires and canyons of Colorado National Monument.
The road (the same US 50 that leads to Gunnison and Crested Butte) is pretty dull in this section, especially once you cross into the delta of the Gunnison/Uncompahgre confluence. You drive South, now, passing rural America and its strip malls. You go through the towns of Delta, Olathe, and Montrose – visually unaware of the fact the Black Canyon of the Gunnison National Park is just to your left (East). But while US 50 veers to the Canyon, you stay on the same road, which is now US 550. Here, the scenery quickly becomes spectacular. Ahead of you, the San Juan Mountains, one of the major ranges in Colorado, home to several Fourteeners in desperate need of being climbed by your, truly.
If you stayed on US 550, you'd drive on one of the most scenic routes in the United States, maybe the entire world. Its nickname, "The Million Dollar Highway," is from a time when a million dollars meant infinite riches, and the scenery is just worthy of that moniker.
Telluride, though, is not on that highway. In Ridgway, a tell-tale gaggle of tourist shops tells you we are getting into scenic country. We turn right (West) on CO 62, with views of Mount Sneffels (14.152 ft) the entire way. Sneffels is particularly notable, in that it's also the highest summit visible from Telluride on a normal day. You drive almost an hour from the first time you see the peak until you park in Telluride, making a giant loop around the range.
It was some time around 10:30 when we hit the parking lot. Telluride is a small town by ski resort standards, and yet parking was plentiful even that late. The AirBnB had to wait, since check-in was in the afternoon, and we just put on our boots and grabbed our gear. Would we like this mountain? We all had heard amazing things, but was it worth the hype?
Let's talk about the layout. Telluride is a little similar to Crested Butte, in that the town itself is independent of the resort. The latter is mid-way up the mountain and is named Mountain Village. Unlike in Crested Butte, there are lifts from Telluride (town) to the slopes – in fact, there is a (free) gondola that goes from town to Mountain Village, hitting a high point on the mountain in between. In fact, you could simply board this gondola and ski the run down either way all day without paying for a lift ticket, as far as I can tell.
The mountain itself is split in two, on a line that goes about North/South from the high point on the gondola. The West side is a beginner/intermediate area with incredibly long runs in parts. The East side is much more challenging and has some of the best in-bound skiing I've ever seen.
I'll omit talking about the West side from now on because, frankly, I wasn't interested. On the East side, you have three main lifts, plus a feeder from town and a slow three-seater on the East side of the range, in Revelation Bowl. The main lifts are named Plunge (insanely slow, incredibly long), Apex (slow but not long and protected from winds), and Gold Hill (an express lift!!!). Each of them allows access to fantastic terrain, so in a little more detail:
Plunge. You get an idea of the mountain simply riding this lift. Even on Google Earth, the face of the mountain on which this lift crawls is a steep and deep braid of ribbons that look downright scary. This side faces North, so is perfect for those spring days when the rest of the "hill" is heated by the Colorado sun. We had perfect snow conditions, with 8″ and more falling each night, so going down this way was pure mad fun. On the second day, the snow was so fluffy and light, each turn into the moguls caused a spray that blinded you with ecstasy. If only the stupid lift had been a little faster!!!
Apex. A shorter, slow lift, Apex hits a gladed slope that is steep enough to entertain and challenge. The runs are not long enough to exhaust you, though, so you can just do loops all day long. Pretty much everything off this lift is fun, including the clear run down the center gully (Allais Alley), but most fun can be had on the North side, where Zulu Queen and Silver Glade beckon.
Gold Hill Express. What do you know, of all the lifts in the world this is my favorite. Gold Hill is fast, there is rarely any line, and it allows you to go down some of the funnest and scariest terrain. As an added bonus, its base is right next to Prospect Express, which is chronically congested.
I could spend whole days, maybe even weeks, on Gold Hill. Everything coming down from its top is pure gold – the lift line, Millions, is scary to look at, but so is the plunging neckline of Dynamo and its sister, Electra on the North side. On the South side, Little Rose sounds like a cute green run, but is actually a steep gully with a neck in the middle. Even farther out is Andy's Gold, a glade that makes it easy to giggle in perfect giddiness on a powder day.
The entirety of this side of the mountain is taken up by a long ridge that goes from the main peak, Palmyra, to the high point of the village gondola. Most of the in-bounds terrain is on the West side, but one bowl, named Revelation, is East. The lift from there is strangely crowded, the bowl small and not particularly challenging. It is also entirely white, with not a rock (good!) or tree (bad!) in sight. We punted on it for the most part, but Revelation lift goes a little higher than Gold Hill, and from its top you can reach the world famous Gold Hill Chutes (numbered from 1 to 4).
Do you like rollercoasters? Are you an adrenaline junkie? Give the Gold Hill Chutes a try. The first two, in particular, are amazing. Steep, scary, and easily accessed by the combination of Gold Hill Express and Revelation. You won't regret it. Unless it's too scary for you, or you are not up to the task, that is.
You can hike all the way to Palmyra Peak, which is in-bounds and at 13,470 ft is one of the highest in-bound points of any ski resort. A series of stairs (the Gold Hill Stairs, you guessed it) help you get up there and conquer what is even lift-adjacent and amazing mountain.
Another interesting area should not go unmentioned: while most of the terrain reached from Prospector Express is blues and greens, on the South side you'll also find the challenging chutes of Black Iron Bowl. While you can hike all the way to Palmyra Peak from here, the chutes at the very beginning are also very fun – just really short, and you'll end up joining the blues and greens before long.
What about dining? Telluride is a fancy mountain, with lots of gourmet options. There is a wine tasting hut, Alpino Vino, on the ridge between Gold Hill and Apex. A sit down, al fresco restaurant is in easy reach of the East lifts (wait times are insane, the place is called a Frasier-sounding Bon Vivant). There is the usual "tray dining" with the common stations at Gorrono Ranch. My favorite place, though, is the little hut called Giuseppe's. Despite the Italianizing name, its menu is definitely French creole and fun. The place is small, so you really shouldn't try going during rush hour, but in addition to having the tastiest food, it also has the least insane prices.
There is of course the usual plethora of food options down at Mountain Village, which is – as mentioned – the main entry point to the resort. The only place I liked, there, was La Piazza del Villaggio, and Italian eatery. You'll also find several sports bars, sandwich shops, an Asian place, etc.
In town, the food options are more plentiful and varied. We stuck with the Italian theme and hit Rustico, but weren't particularly excited. Frankly, I would have wanted to hit there, which is billed as an "eclectic eatery" and which had a menu that looked like a total riot.
Speaking of town: Telluride is a cute mountain town, formerly of mining fame. Strangely, the mineral telluride was never found in or around town, but plenty of silver and gold. The result is a little cozy town in a narrow canyon, a place that has never seen bad days as far as one can tell, and a place that cannot really grow in any direction. As a result, Telluride is obscenely expensive and attracts the rich and famous. Telluridians seem to be happy about the hoity toity presence and I had to hear on several lift rides that Oprah, Tom Cruise, and Ralph Lauren all owned property in Telluride.
Our AirBnB, on the other hand, was anything but luxurious. In an apartment complex, it was billed as a lofted one-bedroom condo. It turned out that it was originally a studio apartment with high ceilings, and that they had cut the ceiling short to make room for a loft that, even at its highest point, was barely four foot high. You had to climb a ladder (not stairs) and crawl to bed. It was, of course, the only last-minute option available and I won't complain too much. But the fact the night cost $280 tells you a lot about town.
Three days on the mountain. I was surprised at how much fun I had. I went on and on, only accepting defeat when the lifties told me to buzz off. When one lift shut down, I'd beg the next one for one more ride. Gold Hill was by far my favorite – offering steep runs almost all the way to the bottom, no wait times, and a fast pickup and drop-off.
Three days and then it was time to head back. Same way, heading around the Sneffels range in another snow storm, hitting town after town, and then finally jumping on the life blood of Colorado skiing, Interstate 70.
The verdict? Telluride is fun!