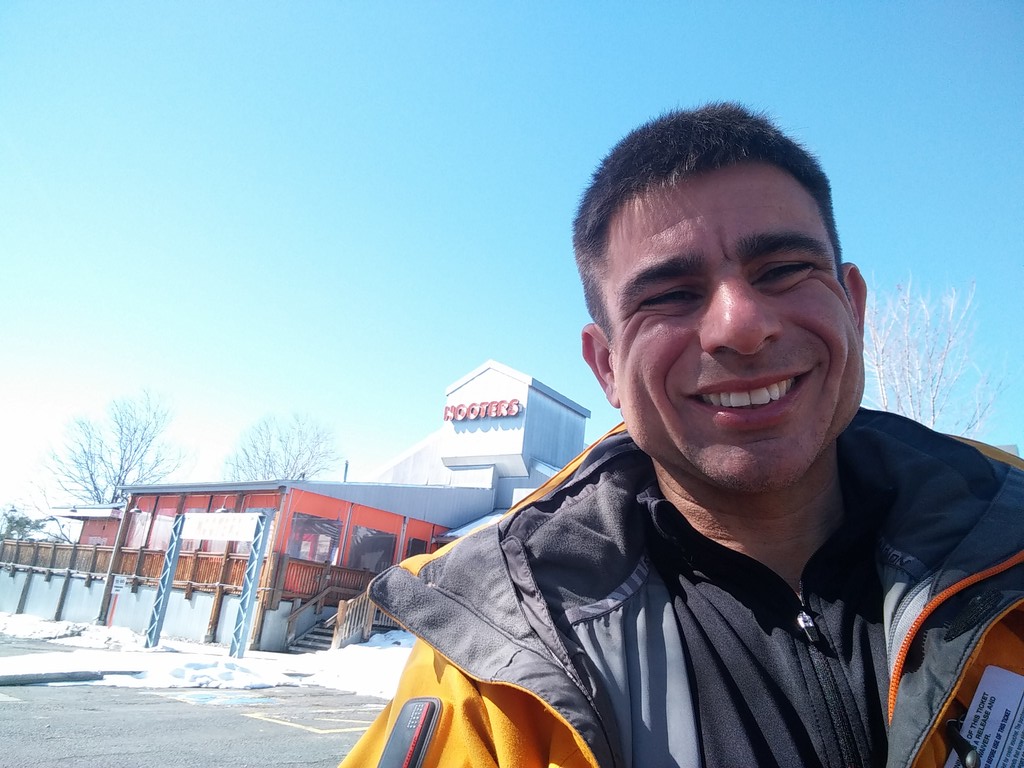 Mountain Collective? Check! Car? Check! Hotels? Check! Snowboarding gear? Check!
This is the second instalment of the yearly Spring Break Snowboarding series. Last year's was about the West Coast, this year it was all in the Rockies. I went with my amazing friend Michael again, and we had an absolute blast!
The Mountain Collective, for those of you that joined this time around, is a loose group of ski resorts that all banded together to combat the evil empire, a.k.a. Vail Resorts (VR). VR owns a large number of places on the West Coast, including many of my favorites (like Heavenly and Kirkwood). Their passes are relatively cheap and suck up a lot of the snowboarding that could be going to the resorts in the Collective.
Given that VR buys failing resorts, the ones it leaves out are the best of the crop. The ones with the famed snow, the famed villages, but also with the famed crazy expensive everything. Mountain Collective resorts are high-end both on the slopes and after the sun goes down.
The deal is that you get two (2) free days at each resort, and then 50% off on all days after that. It's not as good a deal as VR's Epic Pass, which costs less than twice as much but gives you unlimited free skiing/boarding. At the same time, if you want to ski at any of the resorts, it's frequently the only option available to save any real money.
Last year we did the three of six resorts on the West Coast: Mammoth, Squaw/Alpine, and Whistler. This year, it was time to hit the other three, all of them located in the Rockies: Jackson Hole, Snowbird, and Aspen/Snowmass.
Michael currently lives in a hotel in Denver, waiting to find a good deal on an apartment. When I landed there, we packed all his earthly belongings in the car and drove off. It was barely possible to see out the rear view mirror, so we stopped at the Starbucks and rearranged.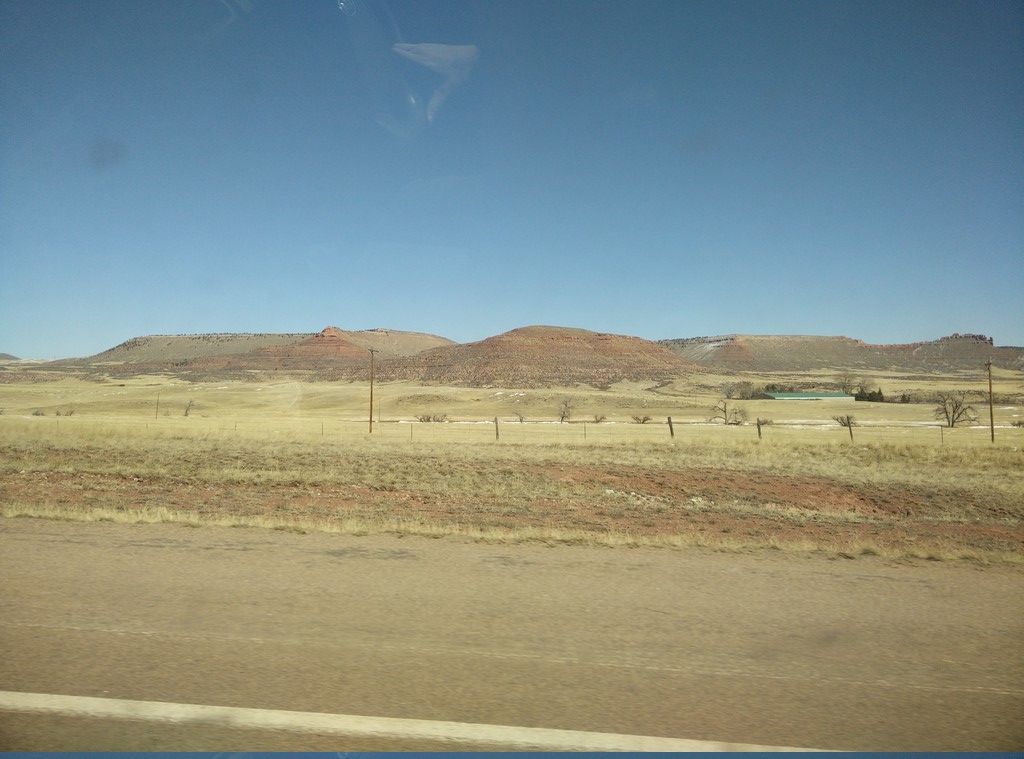 The drive from Denver to Jackson is long and mostly dull. There is a lot of scenery to see, but it's very repetitive. We were hoping that Fort Collins might be a distraction, but we bypassed it and it was of no interest in the area we reached.
We ended up stopping at a Walmart in Rawlins, since I needed dangerously terrorist mouthwash and tooth paste and other necessities. Since we were there, and hungry, we marched over to the nearby McD's. The brakes, at that juncture, started making the tragic scratching sound of hell that goes with metal-on-metal friction.
We started the car again and the sound was gone, so we felt safe continuing. As we left Interstate 70 in Rock Springs, it started getting darker. We finally ended up sliding into Jackson, WY by the time every single decent restaurant had closed.
Straight to the hotel, the Snow King Resort Hotel. It cost a fortune, but it promised to be a resort! Pampering! Long days of snowboarding followed by massages and hot tubs!
First, though, a brief trip to the hotel restaurant. After getting over the price shock, we went for some pretentiously described American staples: steak and fries, and 1/2 chicken with mashed potatoes and gravy. As appetizer, we got a mushroom roll on sauteed onions.
What do you know, the food was not good. It wasn't bad, for sure, and we merrily ate away. But it was bland and strange. The steak was alright, but the fries were dressed as truffle fries, with cheese curds on them. That sounds interesting, but wasn't. The chicken was much bone. The mushroom roll, despite tasty ingredients, was doomed by a crust that was way too thick at the ends.
The next morning, we had to take the local bus to the resort. The hotel has a shuttle, but we were told all spots were booked up. The bus stop is in front of the hotel and a single ride set us back $3 each, each way.
The map of the public transit is deceptive: it looks like the trip to Jackson is short, much shorter than the part within Jackson town. But, no! It's actually the vast majority of the trip, so don't let yourself get fooled!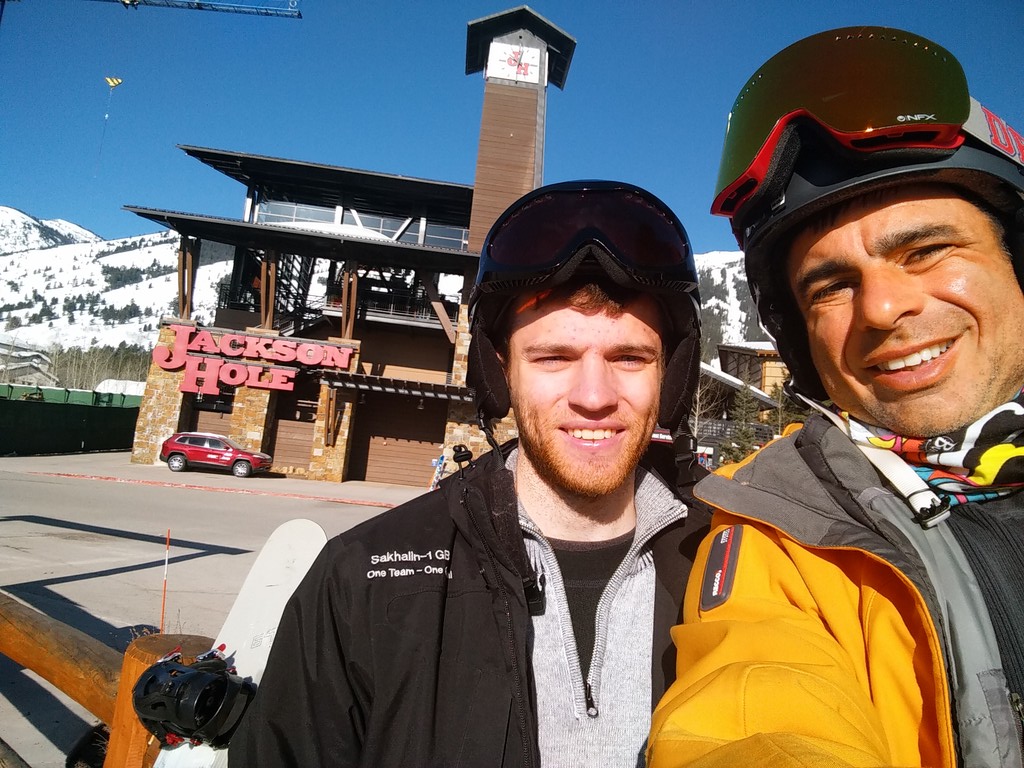 When we got into the resort, we were greeted by a throng of people waiting for the lifts. Crazy! It was Monday, so no real reason for a crowd. But as we got onto the gondola, we could see the mountain itself wasn't crowded at all. There are seemingly a few runs that everybody likes (cough, Amphitheater, cough), but all in all, much of the mountain was underutilized.
Jackson Hole is a fancy place, as befits the Mountain Collective. People are various shades of rich, but they are also very friendly. We had a blast chatting with people on the lifts, and they were very helpful and informative. It is them that taught us that the mountain has an informal division: left of the lifts (South) for the advanced people, right of the lifts for the beginners.
Indeed, we found the right side (Apres Vous lift) infested with beginners barely able to make it down the catwalks. Nothing wrong with that: I was in the category for way longer than I would have wanted, and understand more advanced skiers and snowboarders that don't feel like they should be waiting for someone who's just trying to make his way on the mountain.
The middle is a common playground. I had the impression that much of the action is concentrated here. Some of the runs were indeed crowded with all sorts of people, from the straightlining boarder with a death wish to the pizza family trying to get down safely and not die in the process.
Jackson Hole shone on the South side. Three lifts service it, the Aerial Tram, and the high-speed Thunder and Sublette lifts. Sadly , the operators warned us that the summit (serviced by the Tram) was too icy, so we stuck with Sublette.
But, oh, was that sweet! The runs that start there are challenging and fun, and the snow was amazing, despite everyone complaining about the poor quality. We shot down ridges flanked by steep cliffs, zoomed down straight runs carved into the forest, played with moguls that had gotten soft thanks to a bright, beaming sun.
We spent the entire day there, amazed at how much fun we had. We barely stopped for lunch and went down the mountain as many times as we could. It was a blast!
Aside from the Sublette rides, we also loved the layout of the mountain. It is very easy to get from any point to any other point, thanks to traverses that don't have any flat spots. Additionally, all lifts collect at pretty much the same spot at the bottom, making it easy to find the missing and maimed.
The second day, amazing as it was, didn't match the excitement of the first. It was much colder, which dampens the fun anyway. The snow was also much less forgiving. We still had a ton of fun, even though it was pretty impossible to get to the top of the mountain.
At the end of the day, around 3:30, we took the car ($15 parking) and left for the next stop: Park City. The drive was absolutely beautiful. I assumed that the stretch South of Jackson itself would be amazing, but fact is, even into Utah the scenery was beautiful and ever-changing.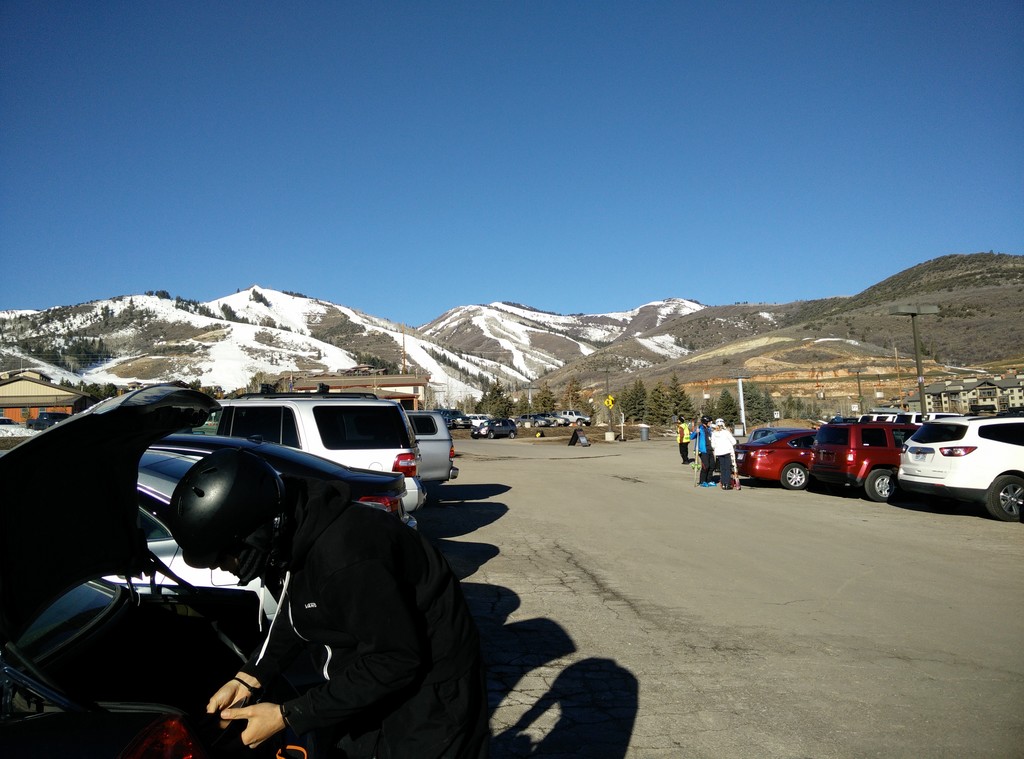 Before it got dark, we started having problems. Google Maps lost our track, as the Internet was gone. Frankly, on too much of the trip T-Mobile disappointed, with vast stretches of the country completely out of service. Android didn't help: it would collect the turns it missed and start telling them with a 30 minute delay, giving confusing directions.
We ended up realizing where we were and following printed directions, but not before we wasted 30 minutes trying to get our bearings. I can't tell you how relieved we were when we finally reached Evanston and I-80. No signal, yet (or maybe that dreadful "E" that doesn't give directions but only allows spam to make it through).
Thankfully, "Follow I-80 until you hit Park City" isn't too hard to follow. We made it into town in the middle of the night (OK, it was 10p) and got out at the Park City Marriott.
Now, the Marriott is a fancy hotel, no doubt. The rooms are well appointed, and the courtyard is glassed in and has an open seating area and a heated pool and spa. It's a really beautiful place, far removed from the cold of the location (or the heat, in the summer). A place to relax and enjoy.
Sadly, the Marriott is nowhere near the lifts. So we had to pick up in the morning and drive. We both had an Epic Pass (Vail Resorts) that allowed us to ski at Canyons and Park City, so that's where we went first.
We hit up Canyons first, thinking we'd try it out despite bad reviews. Parking below the village is free, with an open air gondola (reminiscent of the one at Sea World in San Diego) getting the visitor up to the village.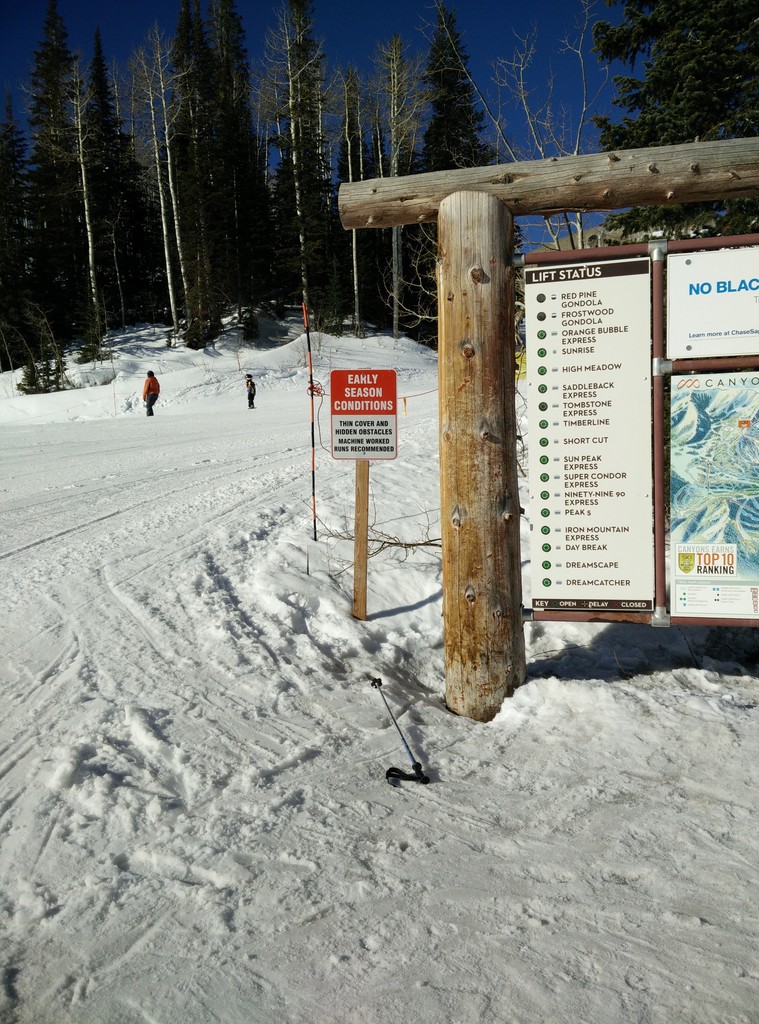 When we left the first real lift, we were greeted by a sign that read, "Early Season Conditions." Given that the season was about to end, not exactly what we wanted to read.
Snow conditions were indeed tragic. All ungroomed runs were pure ice sheets, and only the warmest spots on the mountain got enough heat to soften up. The mountain itself, in a word, was "easy." The runs designated blue were laughably flat, the blacks were untouchable because they had morphed into moguled-up ice sheets, and we were not having fun.
About two hours into the day, we left. Park City was just around the corner, and it was the more famous (and higher rated by friends) resort. Parking was free, again. Up the lift and on the mountain. The snow was marginally better than at Canyons, but it may have just been the heat of the day.
The terrain was much better at Park City. Canyons is a flattish mountain, and even the more challenging runs are interspersed with beginner areas. That's good if you are a family on a trip, mixing beginners and more advanced people. But for a group without beginners, the crowds and pizzas at Canyons are a real downer.
Park City has several lifts that serve amazing terrain. The snow was not good, as mentioned, but even then there was much fun to be had. Some of the trees stay out of sunshine all the time, so we hit stashes of powder despite it not having snowed in weeks. Also, the runs on North-facing slopes didn't ice up, and we had fun times on Shadow Ridge (sounds like a teen comedy!).
At the end of the day, we had had our fill of Epic. We were sorely disappointed, having just come from the amazing days at Jackson Hole. We stopped for pizza at Este, a dive near the hotel that got rave ratings on Yelp (always our best friend in unknown terrain). I had some smallish pizza flatbread, Michael ate a large calzone that was about his own size. The waitress warned him it was "really big," and when she saw it was all gone, she looked at him like she had just seen a python eat up an elephant wholesale.
The next day, we weren't sure what to expect. The Mountain Collective includes Alta/Snowbird, which was our next destination. Alta, of course, is famous for being skiers only – one of the few mountains left with that status. I assumed that Snowbird was somehow the smaller, neglected stepsister, especially because the two resorts are right next to each other.
The drive from Park City was easy. Traffic in Salt Lake City is not that congested (yet) and we made it into the canyon leading to the resorts easily. Also, signage is clearly geared at the masses of snow tourists, and it was nigh impossible to get lost.
We parked at the first available area, near Cottonwood Creek. The main village was farther up the road, but we were running out of gas and didn't want to have to face paid parking. Luckily for us, Creekside ticket service was able to handle the Mountain Collective Pass (unlike Mammoth, where you have to go to the main sales office).
We got onto the mountain, and we were in awe. Snowbird is nobody's ugly stepsister: the runs are beautiful, the bowls deep, and if we had had fresh powder, I think we wouldn't have ever left.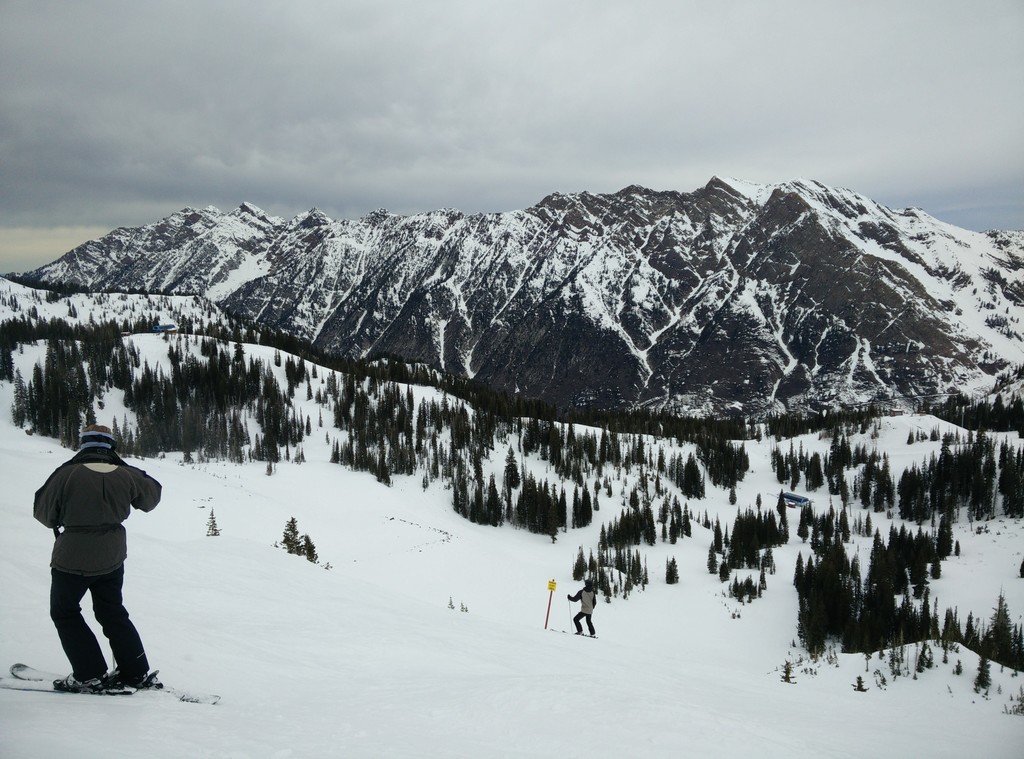 We stayed mainly on the West side (right looking up). We quickly settled on the top of the mountain, where the Gad2Lift disgorged us onto this beautiful bowl, reached via a steep-enough traverse. It reminded me a lot of Ziggy's Meadow off 7th Heaven in Whistler. The snow was not perfect, but it was amazingly grippy, and we just wouldn't stop trying the different bowls, chutes, and faces. It was gorgeous.
After lunch, our usual mountain food (chicken tenders and fries), we decided it was time to move on to something different. We had heard there is a tunnel that goes through the mountain to the backside, so we moved over there.
The backside of Snowbird is Mineral Basin. It's a big bowl with beautiful runs that go on forever, all combining at a single lift at the bottom. A second lift, just above the first one, serves beginner terrain off the side.
Mineral Basin wasn't a lot of fun at first. The upper section is within reach of the sun, and much of it was iced over really badly. To make things worse, the ice looked invitingly fluffy, and it was only once we started our descent that it became obvious what kind of trap it was. I guess we should have tried out a different section, less exposed to heat, and maybe we could have found something less disappointing.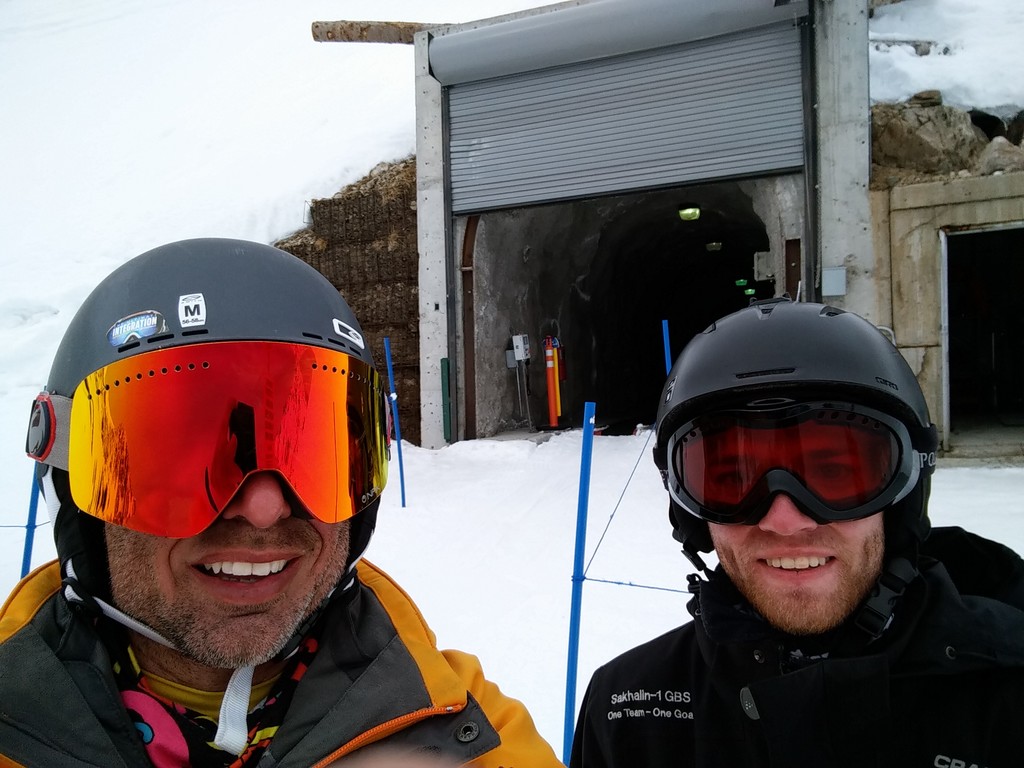 The second section, though, was amazing. The snow turned from sideways ice skating rink to its normal compacted powder self, and the ride became incredibly fun. Mineral Basin is largely devoid of trees, so it was all about shooting down and having fun.
We went up to the top and did some exploration. There is a construction site, which is slated to become the Snowbird terminus of a connection to Alta. The plan is to combine the resorts, which puts the discordant snowboarding status in question. Will it be a snowboarder-inclusive resort? Will Snowbird not allow snowboard (as weird as that sounds)? Or will there be snowboard police at the terminus, ensuring the evil snowboarders don't cross over to the hallowed ski grounds of Alta?
The wind kicked up and turned quite nasty, pushing all available snow in its reach out of the runs. We gave up around 3p and headed back.
Sadly, that's when the brake situation clearly started getting much worse. We stopped to look at a rock formation (both being geology geeks) and saw one of the brakes fuming in anger at our treatment of it. The rotors had deep gauges and it was time to replace them. We drove back to Park City, trying to find someone that could fix them.
We ended up finding (on Yelp, of course) a really highly rated shop just downhill from the I-80 mountain crossing. They said they were swamped but were going to help up. In case you are ever in SLC and in need of a repair shop, I cannot but recommend Steve's Automotive Specialists. They did an amazingly thorough job and almost kept to their original time estimate, going well below the cost estimate.
We were done by 1p, too late to head up the mountain. Part of it was that we would have wasted a full day ticket on what would have been at best two hours, and part of it was that there was an incoming storm we wanted to beat. Plus, the scenery promised to be nice, and it would have been great to actually see where we were going.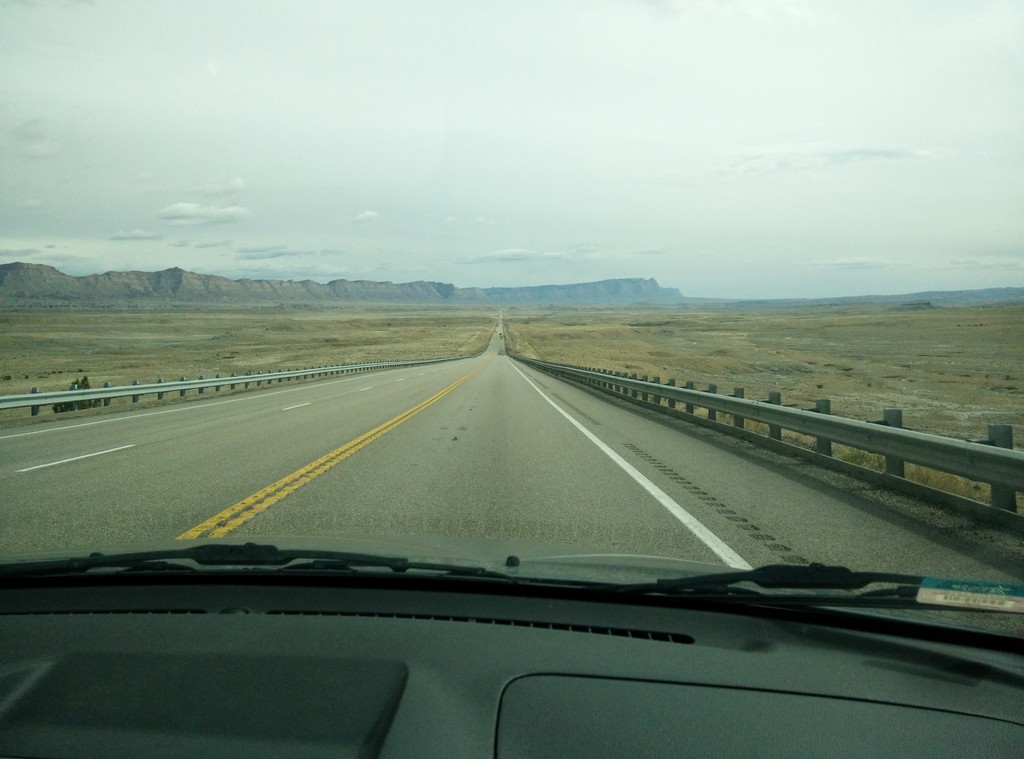 From Sandy, UT, the road took us South on I-15 until we left for Price, UT. That stretch was already beautiful, with rock formations in all shades of red, orange, grey, and brown along the route. It was also relatively desolate and soon after very much a traditional desert.
I thought it doesn't get any better than this. The mountains in the distance to our right (West) were crowned with wild formations that made them look like sandstone castles of whimsy. To our left (East), a towering cliff was eroding away, ever so slowly.
Boy, was I wrong! We hit I-70 near Green River, and boy did it get gorgeous there! If you look at the map of the National Parks, you'll notice a strange accumulation of them in this region, South Utah / North Arizona. There is the Grand Canyon, of course, but also Arches, Zion, Canyonlands, Vermilion Cliffs, Escalante, Capitol Reef and other. It's not a coincidence: the area is so scenic, it's almost impossibly to imagine not having driven through there an entire lifetime.
Arches was to our right on I-70, backed by the titanic La Sal Mountains. A deep scouring on the East side of the mountain told us it have been chewed up by a glacier. The shape of the whole thing, though, was consistent with an ancient volcano. Amazing to find that in what was almost certainly a volcanically quiet part of the world.
After this, the interstate follows the Colorado River into its canyon. That was probably the most amazing part of the drive, and would remain so much after our next stop, Aspen. The canyon is not quite as impressive as the Grand Canyon, but it is steep and the layers are etched sharply and give rise to the strangest formations.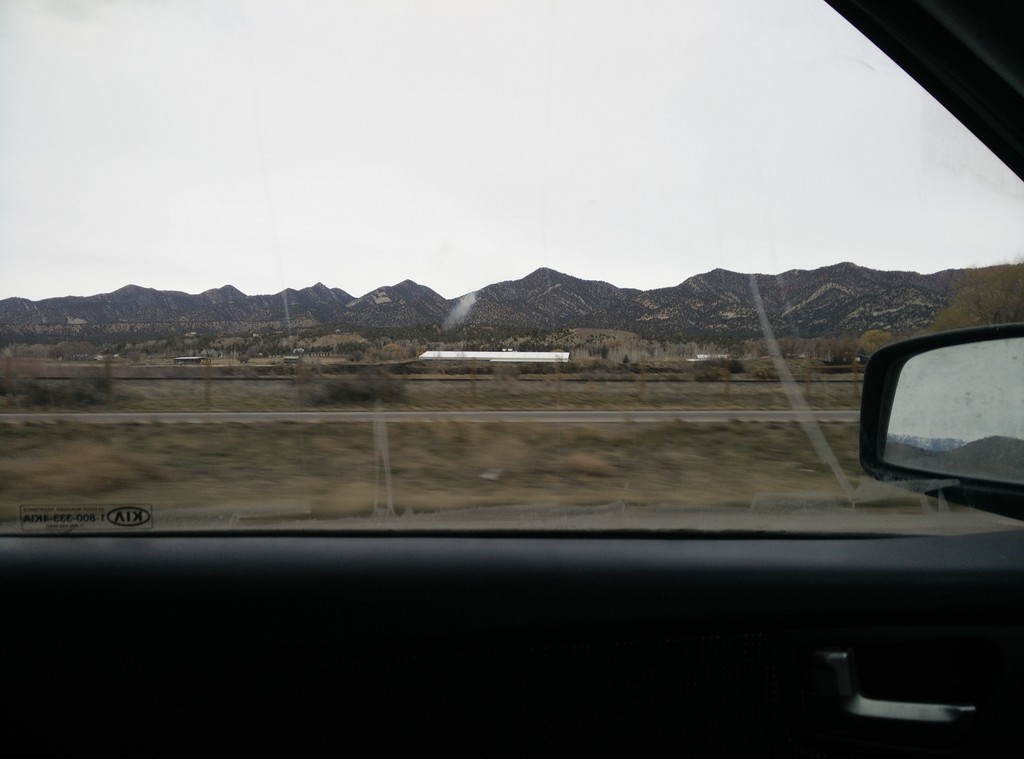 We stopped briefly at Grand Junction (gas) and found the town to be very pleasant. A short while later, there were signs for a ski resort, Powderhorn, that is nested along the cliffs of the Grand Mesa. In case you are not a Civ V player, the Grand Mesa is one of the Natural Wonders of the World in that game.
The next natural wonder was awaiting us in Rifle, a short while upriver. It's an incredibly long chain of hills that goes on for about 60 miles, from Meeker, UT to Glenwood Springs, UT. It seems to have no name on maps, at least no name that applies to the entire chain, but it's easily visible from an airplane and I've used it many times to orient myself. The name I gave it: the Dinosaur Spine.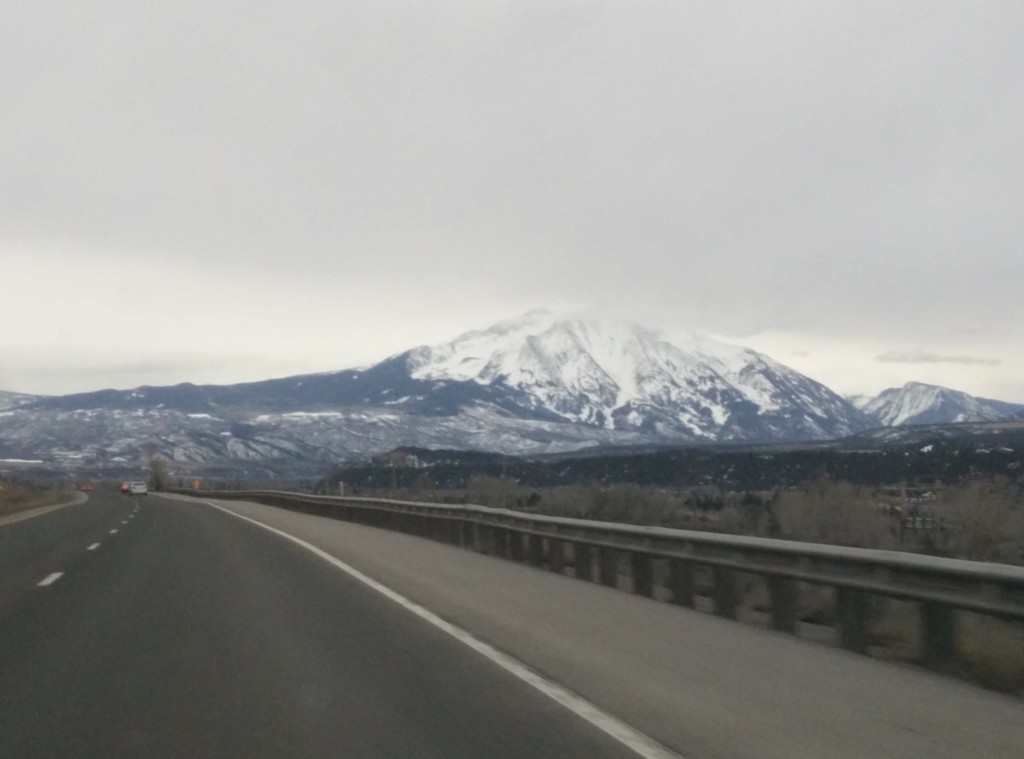 In Glenwood Springs, a very artsy town, we left the freeway. We were just 40 miles away from our destination, Snowmass, but more natural wonders were awaiting (sadly, not the hoped-for snow cover). The natural wonder that took us in was another volcano, Mt. Sopris.
We reached Snowmass Village after dark. Parked at our hotel, the Stonebridge Inn, which offers no covered parking. We had already discovered that putting on frozen boots is no fun, so we entered this somewhat glitzy resort with our entire set of gear, which made us look a little lost and somewhat out of place.
The rooms were surprisingly crappy. At $200 a night, I was expecting some kind of luxury. Instead, the place was more like a regular hotel room – maybe even a motel room. To our horror, when we lifted the bed covers and removed the decorative pillows, we saw a big, dried up blood stain in one corner of the sheets. The pillow cases had another blood stain on one, and what looked like snot on the other.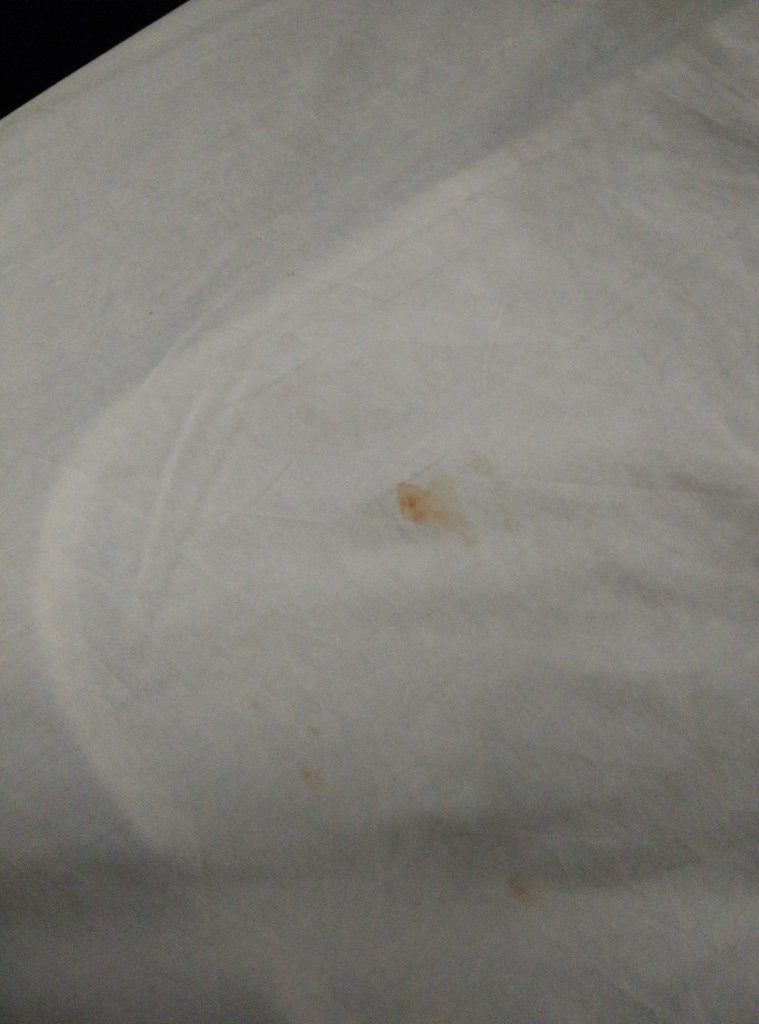 I complained about that the next morning, picture of the stain in hand. The staff's reaction surprised me: they simply said they were going to fix that. I would have expected them to fall over themselves trying to apologize, but it seemed par for the course for the hotel. Oh, well, shit happens.
Next morning, a short ride to Aspen. If you haven't been there, Aspen is actually four resorts, all under the same ownership (at least now). The ticket you buy anywhere is valid everywhere. We didn't know where to go, so we went for the first and most famous one: Aspen Mountain.
A first impression of the town of Aspen is difficult to capture. It has a rustic feel, nothing like the villages of other ski resorts. Houses are pretty, but modest. Buildings have a Wild West feel to them. But once you look at the names of the stores, you realize this place is for the jet set. There are Guccis and Pradas everywhere, the assorted names of people that have too much money.
Parking in Aspen is a tragedy. There is no big lot like in other resorts, so you either try street parking (limit: 2 hours), or you go for the library parking lot (underground) that will set you back some awful amount of money. At least the shuttle to the lifts is free (but you could walk the distance, too).
There was a moment of annoyance when we found out, after waiting about 10 minutes in line at the ticket counter, that you need to go to a special season pass office hidden in a corner if you want to get your Mountain Collective. At least there things were quick and we were on our way up the mountain in no time.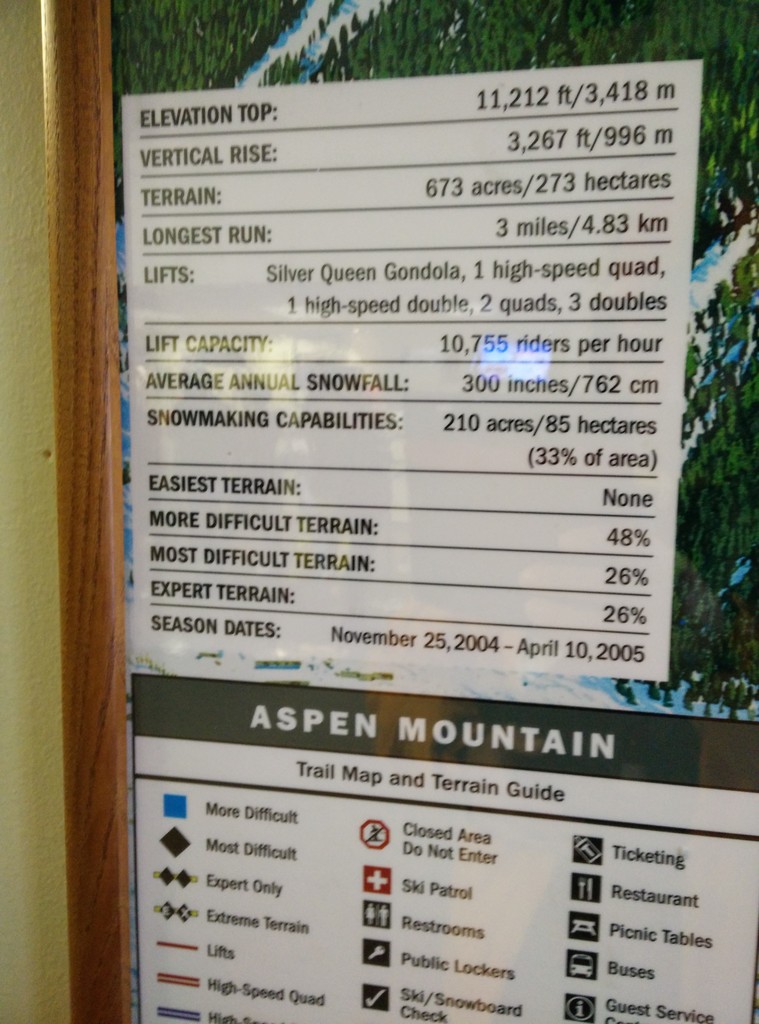 Aspen Mountain is an odd resort. It's very narrow, having only two parallel lifts that are aided by a few additional side lifts. It is oriented North (loading) – South, which makes the lift lines North-facing. The snow, consequently, stays fresh for long periods of time on those, while the slopes on the side can get icy and dicey.
We had no problem with that. Aspen Mountain was a hoot! Everything was well-designed and planned: trees were thinned where appropriate, the runs were well-kept, and the snow – my, the snow!
We spent only half a day there, since we had four resorts and only two days. Lunch at an underground dive bar (520 Grill) brought some of the best chicken burgers in the state. Highly recommended, since it was the only place in town that didn't have absolutely insane prices. Seriously, an $18 calamari appetizer?
Thinking about the afternoon, we had Buttermilk and Aspen Highlands to pick from. We heard there was a freestyle competition at Buttermilk, so we headed to Highlands instead, us being the famous party people.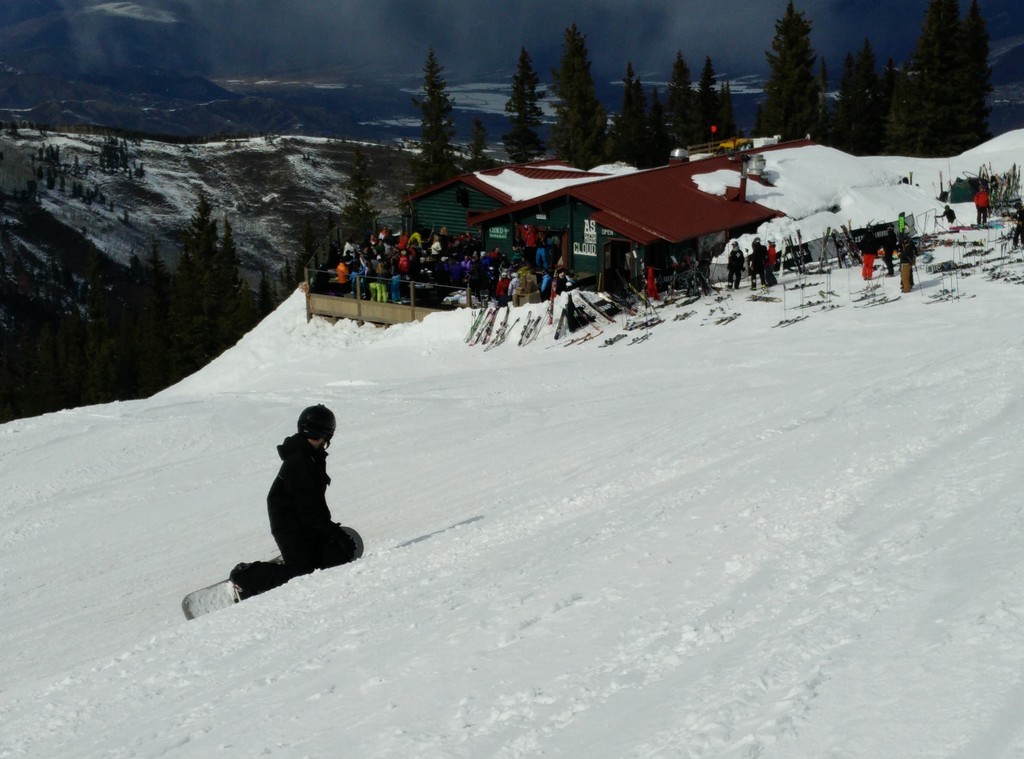 Highlands is very similar in layout to Aspen Mountain, but the core is made up of green runs. There was definitely some fun to be had, but it was nowhere near the quality of the main mountain. I'd skip if you don't need to go there.
The evening was spent in the hot tub and pool at the hotel, and then Italian fare at Slice. Interestingly, Google Maps had given us completely wrong directions and sent us to the really ritzy place, the Viceroy. I had a sense they would scoff at the $200 a night I paid, and indeed a quick check revealed prices that went from the $500 a night during the week to $900 on weekends. For a regular room.
Slice, it turns out, is a uplevel, downscale eatery in the middle of the Village. The food was quite good and not too outrageously expensive, so if you are looking for something tasty that won't break the bank, I recommend.
Another morning, and the end of the trip. We wanted a grand finale, and Snowmass delivered. The mountain is as big as the other three resorts in Aspen combined, and it shows. The variety of the terrain is amazing, the quality of the layout impeccable, and the snow wasn't bad, either.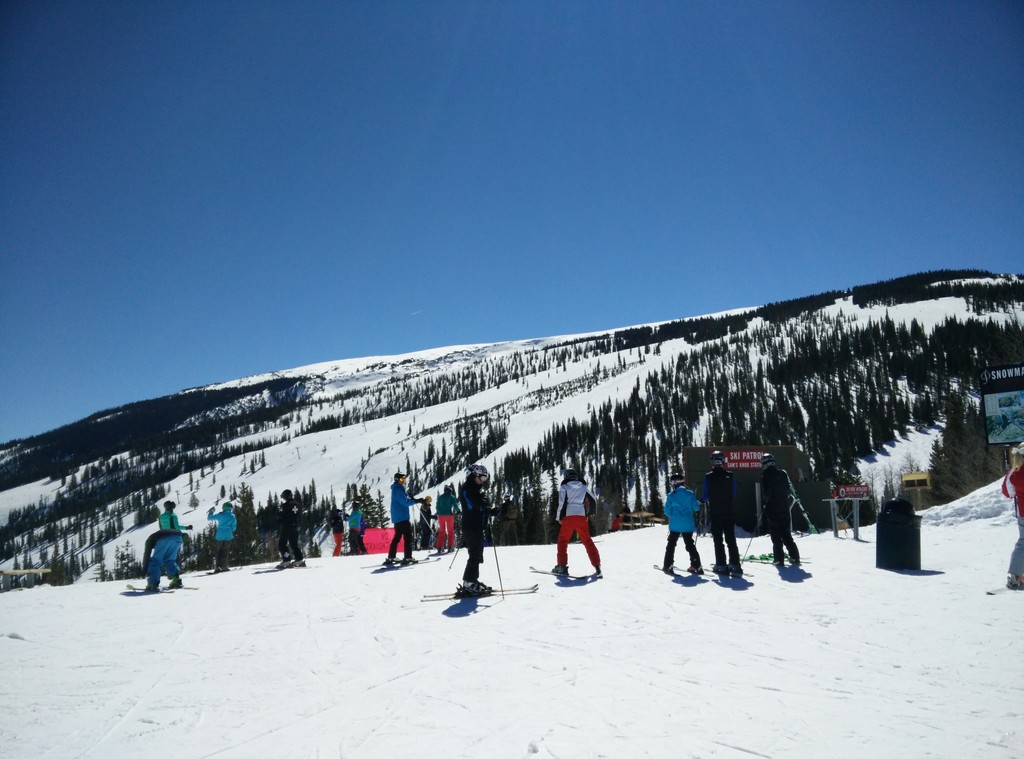 Of course, Colorado (including Aspen) had seen an historic dump in February, the stuff that legends are made of. We were there at about the middle of March, so a few weeks after the grand event, but the snow was still usable.
We started on the left side of the mountain and experienced as much of it as we liked. Then we moved on to the right side, where we had a lot more fun. In particular, we found this lift line that was mostly moguled up, and we ran it down as if snowboarders and moguls were not natural enemies.
We tried to branch out as much as possible, but our attempt to hit the right-most lift, Campground, left us trapped in an ice sheet, so we gave up on the similarly situated Two Creeks on the other side (that lift looked anyway more like it was an excuse to call more condos "ski-in, ski-out").
Lunch had been at the grill right before the lifts. They served amazing sandwiches with an unusual formula: you pick the style, meat, and condiments. I picked Asian, and it was great. (The udon noodles that Michael picked, on the other hand, were a sore disappointment.)
The drive. We were sad to leave and could have snowboarded for another month, but work recalled me. When we rejoined the Colorado River, we returned to a beautiful landscape of canyons and mountains. We stopped briefly in Gypsum, to pick up a replacement laptop, then quickly got into more familiar terrain.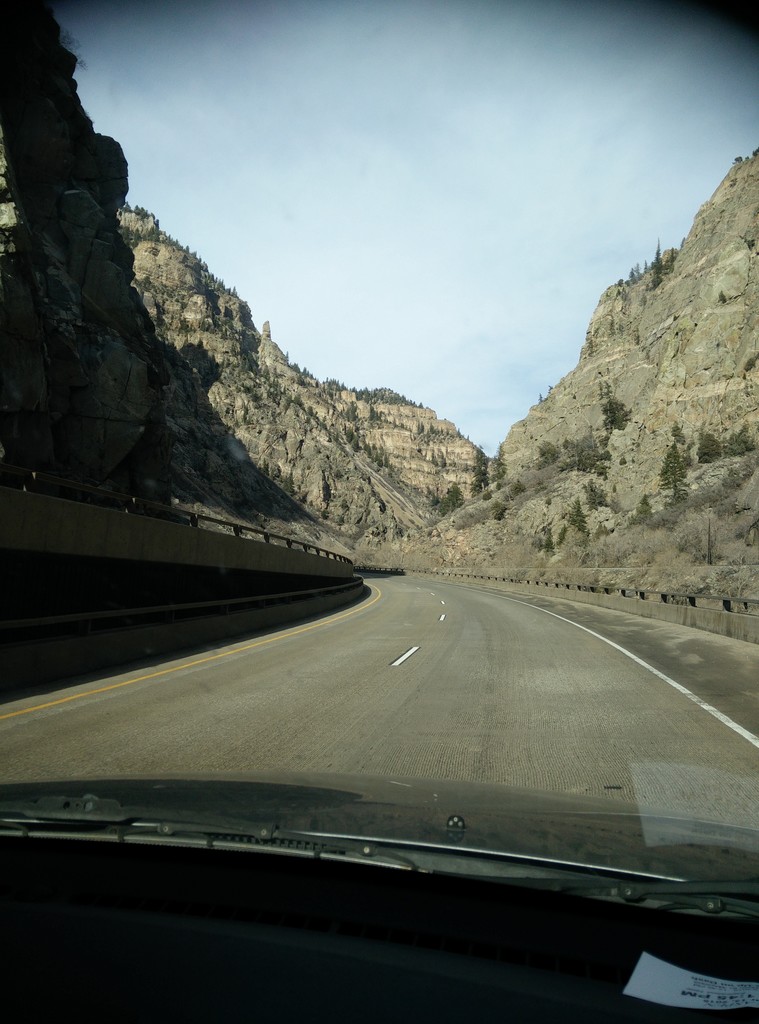 We passed Beaver Creek, unimpressed. Michael had just been to Vail for the first time and raved about it. Then we passed in quick succession Copper Mountain, Breckenridge (out of sight), Keystone, Arapahoe Basin, and Loveland. After that it got really familiar, since we had both been multiple times to Breckenridge.
Surprisingly, the drive was not crowded. It's usually a pain to get into the Denver Basin from the mountains, but on this Saturday night we moved at speed limit without fail. We settled on a Thai restaurant in town and drove there – only to be intercepted by a police officer.
The lady that came, strangely and very unprofessionally, kept on calling me "bud." She checked license, registration, and insurance, and then told us she had stopped us because the license frame light was busted. After that happened, backup arrived. That seemed a little excessive for a busted license frame light, and she seems to have felt she needed to do a more thorough investigation.
While we told her we were on our way to the restaurant, she asked whether we had had anything to drink there. I said neither of us (party people!!!) drinks alcohol and she pointed at the golden can in the driver's door compartment. Before I could look down, she already said in disappointment, "Oh, soda."
She gave us a warning and let us go. I confess I have never seen a license frame light go bust, but this one definitely was.
The restaurant introduced me to Pad See Ew, which until then I had fondly (?) called, Patsy Ew. It was delicious, I confess. Then time to head to the airport, where a hotel was waiting. Next morning, 6a wake up to get to the Spirit flight to San Diego.
Sigh. This time, I could certainly have stayed much longer.
In summary: Mountain Collective resorts are the bomb! They added Sun Valley this year, after adding Lake Louise last year, so I got my pass already. With the exception of Squaw, my least favorite mountain on Earth, I found each of the resorts way above expectation and above average.
Canyons and Park City would certainly look fine with better snow. But given the times, I would think the days of perfect snow might become rarer and rarer, and you should plan on going to resorts whose snow stays fresh for a long period of time. Jackson Hole, Snowbird, and Snowmass certainly deliver!