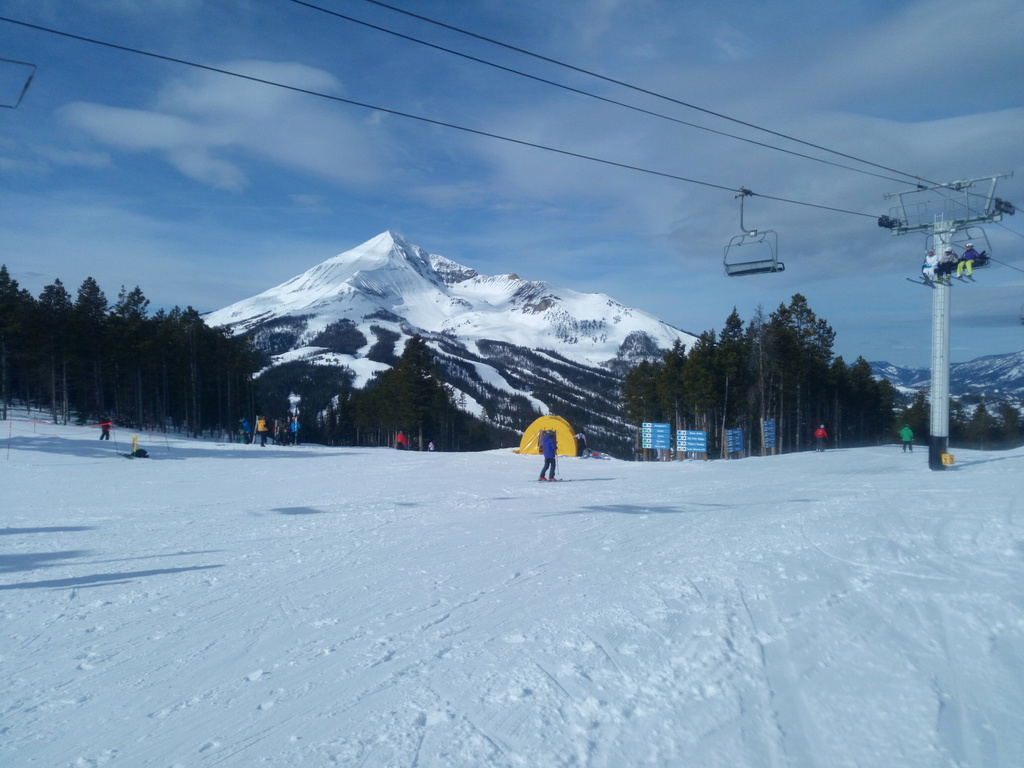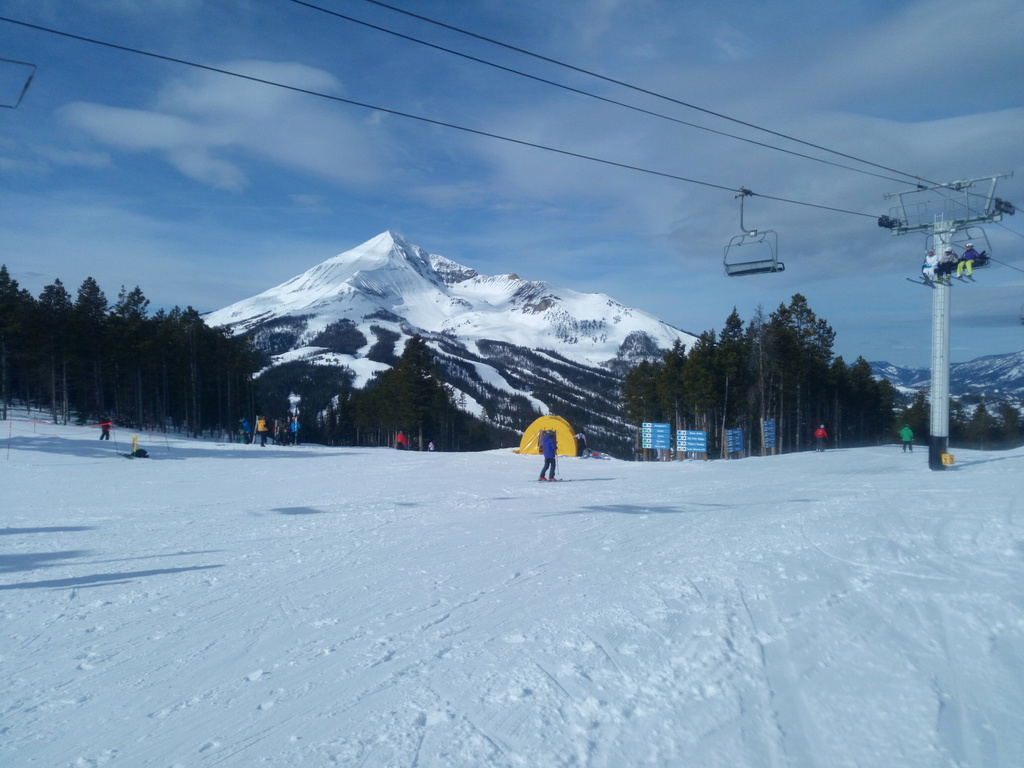 The shuttles come only once an hour and I wanted to be on the mountain early. To make sure I wouldn't miss it, I was out and about around 8, for a departure at 8:35. I thought I was going to freeze my heini off, but it was actually temperate.
The bus arrived and I boarded with a small bunch of people. The driver then left at the appointed time and we started winding our way up Lone Mountain Road, the main road towards the lifts.
After an eternal wait, the mountain came into view. It is just the singleton you see in the pictures, a looming presence that commands attention. From there on, the views would simply be divine. Snowboarding? Did I really come here to snowboard?
We got unloaded at the top parking lot, with a view of the Village (Mountain Village). It looks very meh, with condo fortresses dominating the view. Here, almost immediately, I ran into the only snag of the stay: rude skiers. This portly guy was huffing up the very wide stairs with his skis slung over his shoulders. I was in hurry so I passed him to the right and he yelled at me for being so pushy.
When I got to the top of the stairs, there was a ski locker. A family of three had decided to put on their gear right there, blocking the passage. I stood, waiting for them to scram or at least move a little. I asked politely if they could let me pass. Just as I did that, Portly Guy comes from behind, pushes me to the side, knocks over the kid that was putting on his ski boots, and finally rams his ski with a wide swing into my standing snowboard. Better the board than my head, I guess. Best of all: Portly Guy's hurry ended not 20 yards later, when he stopped on the plaza and stood around for an eternity, waiting for goodness knows what.
It wasn't an isolated incident. The entire day I would see some skiers do rude things. The kind of rude that implies you don't matter. It wasn't targeted at me, at all: I saw a guy slam the door of the restaurant into a child's face, or a lady cut in line at the restaurant, only to have a long phone conversation while the people behind her were fuming to order.
What was most surprising about that behavior was that the people of Big Sky – resort staff, minders, drivers, line cooks, waiters, and even the random person that just happened to be on the lift with you – they were all unfailingly loveable. It was as if this resort attracted both the worst and the best of mankind.
My first wish was to get onto the lift that would eventually land me to the tram to the top. Sadly, as I stood in line, I heard the avalanche charges go off. I know that sound too well, from Whistler. It means you can't snowboard until they clear all danger.
My sinking feeling wasn't helped by the fact this lift was both incredibly flat and incredibly slow. Yes, we were going towards Lone Mountain. No, the name, Swift Current didn't describe the thing. In fact, it mocked it. Not since the days of the Galaxy lift in Tahoe did I experience such a disappointment.
At the top, I turned to the first thing that said black diamond and ran with it. It turned out to be a run called Stump Farm. The snow was great, with at least 3-4 inches of powder freshly dumped. The farm was just a moguled up hillside I managed in something like three minutes. After that, flatness. It was as if I had used up the stored vertical all in one face and I was not going to get any more fun after that.
Next time around, I turned right. Swift current ends above a slow triple chair that was, though, moving. When I got there, though, they were not loading. I had to go down the mountain, back to the loading area of Swift Current.
This time, luckily, I had more fun. I saw a group of people enter the woods at something called White Magic, which turned out to be a thinned out gully and more fun than I deserved in my current mood. I zipped down and had a blast trying to dodge the trees and not get thrown off track by bumps! Instant mood booster!
The prospect of another slow ride up didn't appeal, so I turned to the other lift that loads in the Mountain Village area: Ramcharger. The name implies force and speed, but I had already been disappointed by Swift Current. Boy, was I wrong!
First of all, there was no line and there wouldn't be all day. The longest I had to wait was 30 seconds, and even then only because some group in front of me was waiting for a straggler. Ramcharger was also pretty fast and never stopped (unlike Swift Current).
I saw a run in the glades advertised, Wounded Knee. There was nobody on it as far as the eye could see and the snow looked delectable. I could see the moguls under the powder, it looked like a challenge. I was up for a challenge.
Boy, was that fun! I dashed down, not stopping once, even on first try. I was just turning and twisting, using the forward momentum of the second half of the swing to lift off and turn with easy, while I used the impact of the first half to slow me down and give me a chance to look ahead. I zipped faster than I imagined I could, surrounded by trees and impacted by a giant field of (relatively shallow) moguls.
At the bottom, I simply got back onto the lift and repeated the same idea a half dozen times, first tracking all the way. Wounded Knee was a large field and there was so much to discover in it!
Then a lady said she had done the lift line and had had fun, so I tried that. Then I saw there were more glades to the right of Wounded Knee (Ambush Glades) and I started romping through those.
What do you know, then I figured there was a whole other high speed quad on the other side of the same mountain, Thunder Wolf. I went down that way to find a beautiful, steep, powdery white face, Mad Wolf. Took that one, and realized there is a gully on the snow field at the end.
And there it happened: this skier saw me coming and pushed himself in my way. I assume he simply wanted to get down the gully before the snowboarder would block his way, and I can't really blame him. The gully was moguled up, made for skiers.
Getting the gully on first try was rewarding. But the face of the skier when I passed him, gliding effortlessly on the same moguls he thought I couldn't take, priceless.
There were more options on that side, and I took them all, again. The lift attendant got a big smile whenever I came down his way and high-fived me every single time. It was zoom up, zoom down. I started timing myself and it turns out I am way faster than the lift.
I was euphoric. I had never had such snow in recent memory. It was the kind of snow that makes that slightly raspy, somewhat silky sound at the bottom of the board. Just the right amount of traction for your board not to go crazy and shoot away from under your feet, but not bogged down to the point of having to stand on the back to avoid drowning in the snow.
It was noon and I had a sense the tram might be operating. I still heard the occasional charges go off, but I also could see the cars moving. So I took a Wounded (Arrow to My) Knee and sighed as I waited in line at Swift Current. Curse the name.
They were moving, no doubt! As I got closer to the top, I could see skiers coming down the bowl of the triple chair, but some of them disappearing towards the tram. When I got to the top, I turned right and down to the tram base.
Only to see a line a mile long. I also saw that the tram itself had teensy cars, not bigger than those of Bridger Gondola in Jackson Hole, but with the same frequency of the Aerial Tram. It would take at least two hours to get through that line, and frankly I wasn't having enough boredom to allow for that.
I skipped and did one of the runs in the bowl. It was mad fun, with the powder spraying every which way as I zoomed between crags and rocks. I could have gone back the same way, but it would have meant going on the slow triple chair. So I opted to seek out White Magic and do that again.
Back to Ramcharger. Back to Thunder Wolf. I knew there was more to the mountain than that, but I was having a perfectly wonderful time, and who knows what I would have gotten anywhere else.
It was 3p when my stomach started complaining. I hadn't eaten anything all day and had snowboarded my heini into the ground. I looked at the restaurant at the top of Ramcharger and Thunder Wolf, Everett's, but the sight of long-stemmed wine glasses told me it was going to take too long. Down at the bottom, I found the place I craved, the cafeteria in the mall. They even had a grab-and-go chicken tenders and fries area. Obviously, the grab-and-go stuff tasted stale, but the line at the grill counter was too long for my hunger.
By the time I was done, I could have still gone up for at least two more runs. But I was beat, beat, beat.
I stood up and looked at the map outside. I had spent the best snowboarding day of at least three years exploring less than a third – maybe less than a quarter – of the mountain. There was the peak to be bagged, there was the mountain down from Everett's I had only looked at, there was an entire North-facing section, Moonlight Basin, that was supposed to be perfect but I couldn't go because of the avalanche charges. I could have gone there after noon, but I was too much in fun to accept change.
I got onto the bus smiling like I had won the lottery, Which, in my world, I had. I was drenched from head to toe and it would take an hour to dry out the base layer with the hair dryer. But, boy, was that fun!
The verdict? I love Whistler, I love Jackson Hole, I would love to go back to Snowmass and Snowbird. But if I have a chance to go back to Big Sky, I will, no matter what else is available. The snow was amazing, the runs were well designed and there was huge variety, there was lots of challenge on Lone Mountain – you could see it on the ride up, the couloirs tracing lines of insanity for skiers and snowboarders to conquer. Best of all, it was Presidents' Day weekend and there was no crowd!